Political Memorabilia For Sale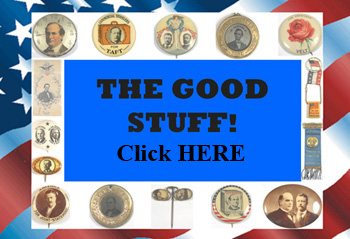 Welcome to The Reeded Edge's Political Memorabilia section. Featured within, is a selection of Presidential campaign items from the mid-19th century to the mid-20th century. As a former collector, I place a great emphasis on both rarity and condition. I pride myself on offering some of the best quality items on the internet. I also always buy campaign buttons and other campaign-related memorabilia. If you have anything similar to what you see here on my web store, whether it's a great single piece or an entire collection, please consider offering it to me.
Thanks for your consideration and Happy Hunting!
Rob Lehmann
APIC #2805