Contact Info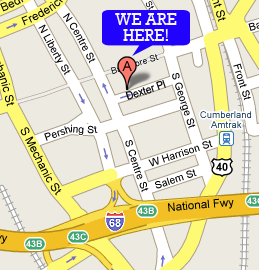 • The Reeded Edge, Inc.
113-115 Baltimore Street, Suite 102
Cumberland, MD 21502
• Office Hours: M-F 10AM - 5PM ET
Saturday - By appointment only
Sunday - CLOSED

Please also note: We typically take our lunch hour from 12pm - 1pm.

• (301) 724-0400 PH (24 hour answering service)

• (301) 724-0478 FAX

• Email: mail@reedededge.com

• Customer Service: sales@reedededge.com
• Financial Banking Information: Standard Bank PaSB
1275 National Highway
LaVale, MD 21502
(301) 729-3738

The Reeded Edge, Inc. is your one stop shop for world class rare coins and collectables. Founded in 1990, The Reeded Edge has emerged as one of the nation's most respected dealers in the rare coins & collectables field. The Reeded Edge is in the full-time business of buying and selling United States coins and fine collectables.
Our firm is responsible for assembling many fine coin collections including several of the finest silver dollar sets known. Whether you're a collector spending $200 at a time, or an investor spending many thousands of dollars, The Reeded Edge is your one source for high-quality United States coins. The Reeded Edge specializes in the one on one relationship. We realize that every collectors needs are different. Unlike many of the larger coin firms where you're treated like a name and a number, we take an active interest in each collector's needs.
Our web store is the result of extensive buying, both at home and abroad. Represented are many thousand United States and World coins in an easy-to-read and user-friendly format. There is no need to ever pick up the phone, as all shopping can be executed in a secure and concise manner in the comfort of your office or home. Furthermore, keeping with our customer service philosophy, all orders are processed quickly, and confirmations are sent within 48 hours.
And, The Reeded Edge is not simply just a rare coin firm. Other areas of interest include gold and silver bullion, esoteric coins and tokens, Civil War memorabilia, rare watches, diamonds and fine jewelry, Presidential political memorabilia (with an emphasis on celluloid buttons), sterling silver flatware and accessories, antique tin and wind-up toys, advertising memorabilia, general Americana, English diecast toys (Corgi, Dinky and Matchbox) as well as many other areas of rare and desirable coins and small collectables.

Meet the Reeded Edge

Robert Lehmann is the founder of the Reeded Edge. As president, he oversees all aspects of the company's business. Robert's credentials include a Business and Marketing degree from the University of Maryland. He is a LIFE MEMBER of the American Numismatic Association, a LIFE MEMBER of the prestigious National Silver Dollar Round Table, as well as a LIFE MEMBER of bothF.U.N. and C.S.N.S. Robert is also an authorized dealer for the Professional Coin Grading Service (PCGS), an authorized dealer for the American Numismatic Association Certification Service (ANACS). His accomplishments in the areas of numismatics are numerous, including assembling 2 of the world's finest early dollar sets and 3 world-class Morgan Silver Dollar sets. He has bought and sold over one hundred million dollars worth of rare coins spanning a 20+ year career in the numismatic hobby. Robert is a regular on the national coin show circuit, displaying at over 25 shows per year. He enjoys writing, and has contributed articles to various hobby publications including the Coin Dealer Newsletter.
Robbie Jenkins is a senior numismatist for the Reeded Edge. Robbie holds a BS degree in Economics and a BS degree in political science from Frostburg State University. He is a long-time collector of U.S. coins, paper money and exonumia with a broad knowledge in many areas of numismatics. Robbie served as the sole ANA Numismatic Intern from June, 2007 until August, 2007. His responsibilities with the ANA included working with the museum staff, organizing and cataloging portions of the ANA's collection, as well as researching and handling U.S. coins, ancient coins and paper money. Robbie also served as a library assistant for the ANA, helping members to locate appropriate reference material. He even assisted patrons in valuing their coins. Robbie is a member of the ANA, Western Maryland Coin Club, Early American Coppers and Pennsylvania Association of Numismatists. He is also a member of PCGS, NGC and CoinTalk online forums. Robbie has earned numerous awards, both in and outside of the hobby in recognition of his outstanding leadership skills.

Ray Hunt is the Chief Information Officer for The Reeded Edge. Ray, who holds an Associate degree in Computer Science as well as a bachelor's degree in marketing, both from Frostburg State University, Frostburg, MD., serves as the company's webmaster. Ray was previously employed as a disc jockey for a popular local radio station, is familiar with all areas of the Reeded Edge's operations, and is especially well versed in all technical matters. As a hobby he is the bass player in a local rock band, "Social Grudge", and he also writes and records his own music.

Tammy Lehmann is in charge of shipping and packaging. Tammy has worked in many facets of the corporation over the years. Her current responsibilities include customer correspondence, invoicing and shipping. The Reeded Edge sends as many as several hundred packages a week, thanks in a great part to Tammy's efforts.
The Reeded Edge uses the help of several other part-time employees who work with the company on a "will-call" basis.