IMPORTANT NOTICE ABOUT PRECIOUS METALS

Due to both the volatility and constantly changing nature of the precious metals markets, please call to confirm availability and pricing on any bullion or bullion-related items. Thank you!!
Active Numismatic Market Thrives through Precious Metals Roller Coaster
Wholesale Trading Light as Memorial Day Holiday Approaches - Next Up Long Beach and Baltimore


May 22, 2013 - The coin market this week could be described as guarded. With the upcoming holiday weekend and the recent uncertainty surrounding precious metals, many of the larger wholesale movers and shakers are taking pause. This is somewhat typical for this time of year, and is not raising any eyebrows. The true indicators of a healthy summer coin market will be the upcoming west-coast Long Beach Coin and Collectibles Exposition and its eastern counterpart, the Whitman Baltimore Coin Show. These two are always considered barometers for the market in general, especially the Baltimore venue, which is arguably the best three-time-a-year coin show in the country. As usual, we'll be present at both events, so stay tuned for our reviews.
Once again this week, you will find quite a few new numismatic purchases throughout the webstore, including collector coins and currency. Of special note, are a group of new CAC Approved PCGS and NGC certified coins. This is an area of the coin market that just gets stronger and stronger, as the two-tier gaps between high-end coins and average coins widen. Expect to see The Reeded Edge continue to take a stronger position in CAC Approved coins as this area of the market expands.
The buying side of the market still remains robust, although locating quality material continues to get more difficult. Despite this challenge, we have continued to add new coins, collectibles, political memorabilia and even vintage diecast toys to our already vast inventory. It's not like us to ever rest on our laurels, and this week's diverse mix of coins and collectibles is evidence of that fact. We urge you to peruse all of this week's new items, as there really should be something for every collector's taste and budget.
We will also have an extensive e-mailer going out this week highlighting MANY of our recent office new purchases. This is the ONLY way to get a preview at all of our new items BEFORE they make their way onto The Reeded Edge webstore. If you don't presently receive our mailers, please sign up HERE (and NO, we don't ever share your e-mail address).
(Featured Coins, Currency & Collectibles Added to Inventory Within the Last 30 Days - Last Updated May 22, 2013)
Baltimore Phenomenal! The Reeded Edge Returns from our BEST Coin Show of 2013
March 18, 2013 - Anymore this year, when Rob and Robbie walk into a coin show, they're expecting good things to happen. Baltimore exceeded this normally lofty goal ten-fold. There is no single way to accurately describe last week's Whitman Coin and Collectible Exposition. So instead, we would say these three things: Expectations were high. Expectations were immediately met. Expectations were ultimately exceeded. The Reeded Edge headed to Baltimore Tuesday night, and began trading coins immediately upon arrival. That trend continued throughout Wednesday, and by the time that the show officially opened Thursday morning, our certified inventory had been reduced from 10 1/2 boxes to 4 1/2 boxes. By the show's end, The Reeded Edge bought and sold well in excess of a half a million dollars worth of coins. As has been the case since the beginning of this year. the coin market remains hot. This Baltimore show will be remembered as particularly good, better even perhaps than the quintessential January FUN and February Long Beach Conventions. Of course partial credit has to go to show management. After all, these are the folks responsible for getting dealers and collectors alike through the front doors. Our hats goes off to the entire staff at Whitman for another job well done.
The Reeded Edge/Salvation Army Toys for Kids 2nd Annual Toy Giveaway Launches our Christmas Season
December 17, 2012 - For the last two years, The Reeded Edge has hosted a toy drive in conjunction with our local branch of The Salvation Army. This year's event, was once again, hugely successful. In all, we were able to buy gifts for over 30 area children. The looks on the children's faces when they opened their presents from Santa said it all.
The holiday season is about giving. We are blessed to be in a business where we can make a good living doing something that we love. But we are only too aware that not everybody is in the same position. This year's event was a collective effort between our staff, our wives (who tirelessly shopped for and wrapped the gifts) and Melody Merrill of the Cumberland Salvation Army. This is something that we really enjoy doing, and we hope that circumstances will allow for us to do it once again in 2013.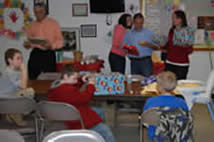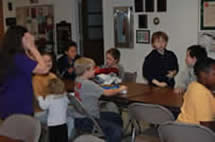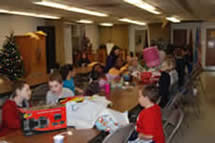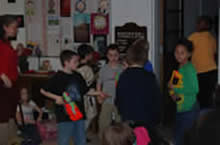 The Reeded Edge Concludes our 2012 Coin Show Schedule; Looking Forward to a Robust 2013 - HAPPY HOLIDAYS TO ALL!


December 10, 2012 - The Annandale Coin Show generally offers few surprises and this year's venue was no exception. Hundreds of collectors flocked into the Northern Virginia Community College's Ernst Center both Saturday and Sunday eager to do business. Our time was equally split between buyers and sellers. At the end of the weekend, our analysis was that both areas were very solid. Like most of our coin shows in 2012, Annandale was very successful. Which brings us to our next point....
Often during the year, we were asked how we could prosper in such challenging economic conditions. Our answer had more to do with our own work ethic and approach to the business than it does the overall market. We take the pragmatic approach that there are some things that are impossible to control. We find it far more effective to do the small things that we CAN control. It's at the end of the day, the sum total of these "small things" determine results, for better or for worse. For instance, at a coin show we believe it is our job to service the public. We can not control what they are going to want to sell nor what they want to buy. However, we'll make every attempt to buy anything of value from a seller and find something of interest for a buyer. If we had a dime for every time we have heard a coin dealer tell a customer, "No, I'm not buying today...." or "We don't deal in those", we would be independently wealthy. It's nothing short of mind-numbing how customer unfriendly many dealers can be. Again, we can't independently dictate whether market conditions are good or bad, but we certainly can do everything within our power to make sure that the customer experience is good. There is an old saying that inside of every CAN'T is a CAN. At The Reeded Edge, we believe that opportunity exists each and every time that we interact with a customer. Perhaps, it was this train of thought that has contributed to one of our best years in almost a decade. On paper at least, 2012 wasn't supposed to turn out this way.
If you haven't given The Reeded Edge a shot yet, we urge you to do so. Let us put our 50 years of combined numismatic experience to work for you. There are few rare coin firms in the country with a more thorough knowledge of the hobby, diversity of inventory (we currently have approximately 10,000 unique items for sale on-line) or more comprehensive hands-on experience in the coin market than us. For those of you that are Reeded Edge customers, we want to say thank you for helping make 2012 so successful. Rest assured, we neither take you or your business for granted. If possible, we'll try even harder in 2013 to continue to earn your business and trust.
Finally and perhaps most importantly, we want to wish you and yours a happy and safe holiday season. We hope that this holiday and the upcoming new year bring you peace prosperity and happiness. We look forward to seeing many of you in January at the Orlando FUN Show. For the rest of you, we hope that some other venue will bring us together in 2013. Once again, Happy Holidays!

The Reeded Edge Purchases a Major European Vintage Diecast Toy Hoard
Hundreds of New Listings Found Throughout the Store
We are excited to announce the arrival of a hoard of early diecast toys, the likes of which we have not seen in several years. This is great news for collectors who have been starved by a dry spell in the diecast market. Featured will be many 1950's and 60's era boxed Corgi and Dinky, including many better and scarce models. As this arrival is coming right on the coattails of the A.N.A. World's Fair of Money, it may be several weeks before all items are listed, photographed and made available for sale. Please check back often, as we expect that these models will be making their debuts on an almost daily basis. Whether your collecting passion is commercials, passenger cars or military, it's all here and equally represented. In all, there are over 150 new models, some of which we are owning for the first time ever. Don't hesitate to call Rob Lehmann @ 301-724-0400 with any questions whatsoever.
Name Your Price! From The Reeded Edge
With the impending fiscal cliff on our minds, or at the very least, constantly in the news, it seems that value has become the word of the day. Whether you're a collector on a budget or an investor seeking opportunity, price seems to be the common denominator. Generally speaking, if the price is right, the item probably will sell. With that thought in mind, The Reeded Edge is introducing our new Name Your Price! program.

Name Your Price! allows you to make an offer for any item in inventory with a suggested retail price of $50.00 or more. If you like saving money, this opportunity is definitely for you. Put your best foot forward, because this is your chance to name your price on a wide variety of coins and collectibles.

Click HERE to open up our current coin and collectibles inventory list. Then, click on a listing to view a detailed item description along with corresponding images. If you like what you see, return to the master list and click on the Name Your Price! button to the right of the original listing. This will open up a email template where you can enter both your offer and your contact information. Once we receive your offer, a decision will be made within one business day, and in many instances, in just a few minutes. It really is that simple.

Every offer is seriously considered and weighed carefully. We evaluate many different factors including our original cost, what comparable items have recently sold for, frequency of the item's appearance, rarity, desirability and overall quality. We then carefully consider your offer against each of these areas and try to make a fair decision. Consequently, not all offers will be accepted. But, if your offer is close, we'll let you know, and in some instances, may come back with a counter-offer. We encourage you to take your shot and make an offer-You have absolutely nothing to lose!